In this article, we are discussing about How to Get an International driving license in India?
Visitors to foreign countries can choose to travel by public transport like buses, or they can choose to cover the foreign roads via bikes and cars.
With an Indian driving license, you can drive anywhere and everywhere in India, but for foreign roads and highways, an international driving permit or license is required.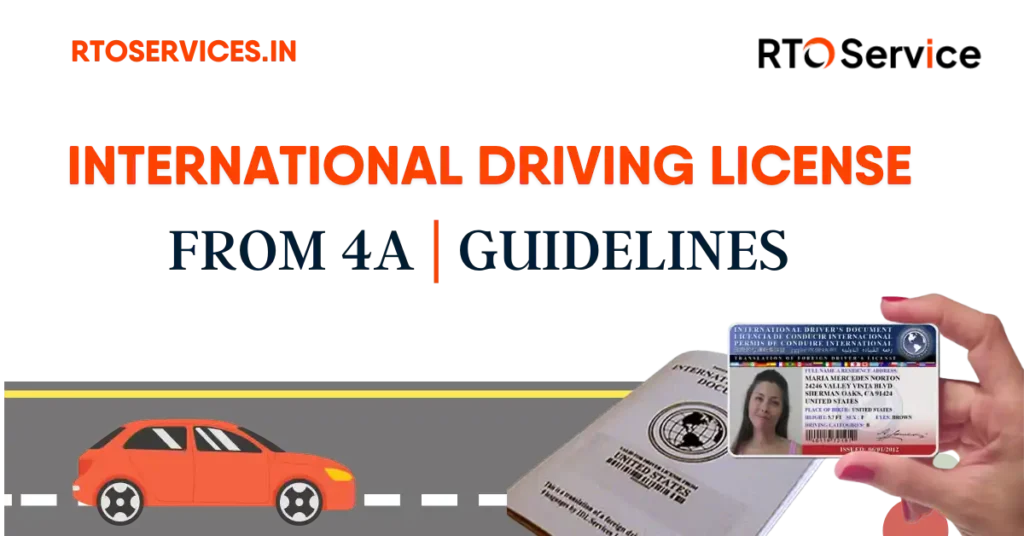 What Is an International Driving Permit/License?
A four-wheeler or two-wheeler driver can obtain an international driving license from the road transport authority of India.
In addition, it is an official translation of the driver's license, where the documents are translated into a language that can be understood abroad.
How to Apply for an International Driving license in India?
The Ministry of Road Transport And Highways website allows individuals to apply for an IDP, or an individual can apply directly to their respective RTO.
Step 1: Complete the following forms:
Step 2: Provide details of your driving license, identity, and address.
Step 3: Attach all necessary documents to the forms.
Step 4: Take your driving test.
Step 5: Make a payment of Rs 1,000 when you submit your documents.
If you follow these simple steps, your application will be successful, and you will receive your IDL within 4 to 5 business days.
Applying for a foreign driving license has become easier thanks to the online application process. Those who wish to use the offline route can go to their respective RTOs and fill out the forms, pay the fees, and submit the required documents. Your license will be translated into an international version by the RTO.
Read More | How to Transfer Vehicle Ownership from any states in 2022?
Eligibility Criteria to Apply For International Driving License
To apply for IDL, you must meet the following requirements:
A citizen of India with an age of at least 18 years is required.
An Indian driver's license should be valid.
The passport and visa must be valid.
Documents Required to Apply for an International Driving Permit
The following are the documents required to apply for a driving license in India –
The forms 4A and 1A
Copy of a valid driver's license
A copy of your passport and visa
Verification of duplicate tickets
A fee of rs 1,000 is required for the application
Photographs of passport size are required
Citizenship certificate from the Indian government
Proof of address
A copy of the age proof
Let's look at how to renew your international driving permit now that you know the documents you need.
CHECK ALL RTO DETAILS – CLICK HERE
How to Renew International Driving license in India?
International driving permits are valid for one year from the date of issuance.
The Motor Vehicle Act has been amended to make it possible to renew an international driving license. The license must be renewed via MoRTH's official website. The procedure is as follows:
Step 1: Download and fill out the miscellaneous application form available at the respective Indian Embassy sites.
Step 2: Submit these documents:

Applicants must submit an original and a copy of their passports and visas
Original and valid Indian driver's license and IDP
Proof of residence, such as a utility bill, lease agreement, state identity card, or mortgage deed
Photographs of passport size are required

Step 3: Submit the renewal fee of 2,000 Euros along with the documents and forms. From the embassy, you will receive a receipt of payment and a certificate of identification.
Step 4: Apply on MoRTH's official website and upload all embassy-issued documents.
Your IDP will then be reissued by the Indian Ministry of Road Transport and Highways and sent to your postal address.
Furthermore, the Ministry of Road Transport and Highways should be contacted if there are any further problems with reissuing the driving permit overseas. As a result, your IDL can be extended by another year.
How Do International Driving Permits Benefit You?
An international driving permit allows you to drive on foreign roads without getting into trouble with the local authorities. An international driving permit also comes with other benefits. They are listed below.
Driving a car on foreign roads
As a proof of identity, it can also be used
In other countries, there is no need to take additional driving tests
An international driving license gives you access to around 150 countries
When you have an international driving permit, you can claim insurance for an accident abroad
Foreign authorities can be contacted
Discover the sights and sounds of the countryside
Take your vehicle to a foreign country by obtaining an international driving permit. A valid international driving license will also allow you to rent a car and drive on foreign highways and roads without getting into trouble with the local authorities.
FAQs about International Driving License Permit in India
✓ Do we need a visa to get an international driving licence in India?
Ans- Applicants who have a valid driving license, passport, and visa are eligible for an international driving licence. Persons are ineligible for an international license unless they possess these documents.
✓ How long is an international driving licence valid?
The validity of an international driving licence is one year from the date of issue or the date of validity of the domestic driving licence, whichever comes first.