In this article, we discuss how to obtain a mental health certificate for a driving license. Getting a driver's license is a big step for many people. Did you know that in some states, you may also need a mental health certificate to get a driver's license or renew it?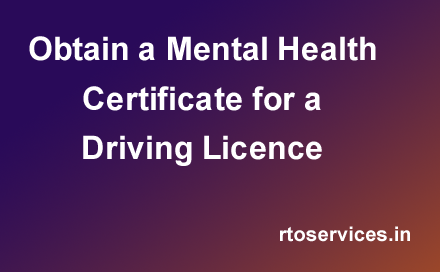 Mental Health Certificate for a Driving Licence
Follow these Step to Get a Certificate.
Step 1: Consult a Psychiatrist
The first step in obtaining a mental health certificate is to consult a psychiatrist. It is important to choose a psychiatrist who is registered with the state medical council and has experience in providing mental health certificates. The psychiatrist will evaluate your mental health and provide a certificate if they determine that you are fit to drive.
Step 2: Submit the Certificate to the RTO
Once you have obtained the mental health certificate from the psychiatrist, you will need to submit it to the Regional Transport Office (RTO) along with your driving licence application or renewal form. It is important to ensure that the certificate is valid and not expired at the time of submission.
Step 3: Attend a Medical Test
In some cases, the RTO may ask you to take a medical test so they can find out more about how fit you are to drive. This test may include a physical examination, a a vision test, and/or blood test.
Step 4: Obtain the Driving Licence
Once you have successfully submitted the mental health certificate and passed any necessary medical tests, you will be able to obtain or renew your driving licence.
It is important to note that the process of obtaining a mental health certificate for a driving licence may vary depending on the state in which you reside. However, by consulting a registered psychiatrist and following the guidelines set by the RTO, you increase your chances of successfully obtaining a driving licence.